Meet Rosalie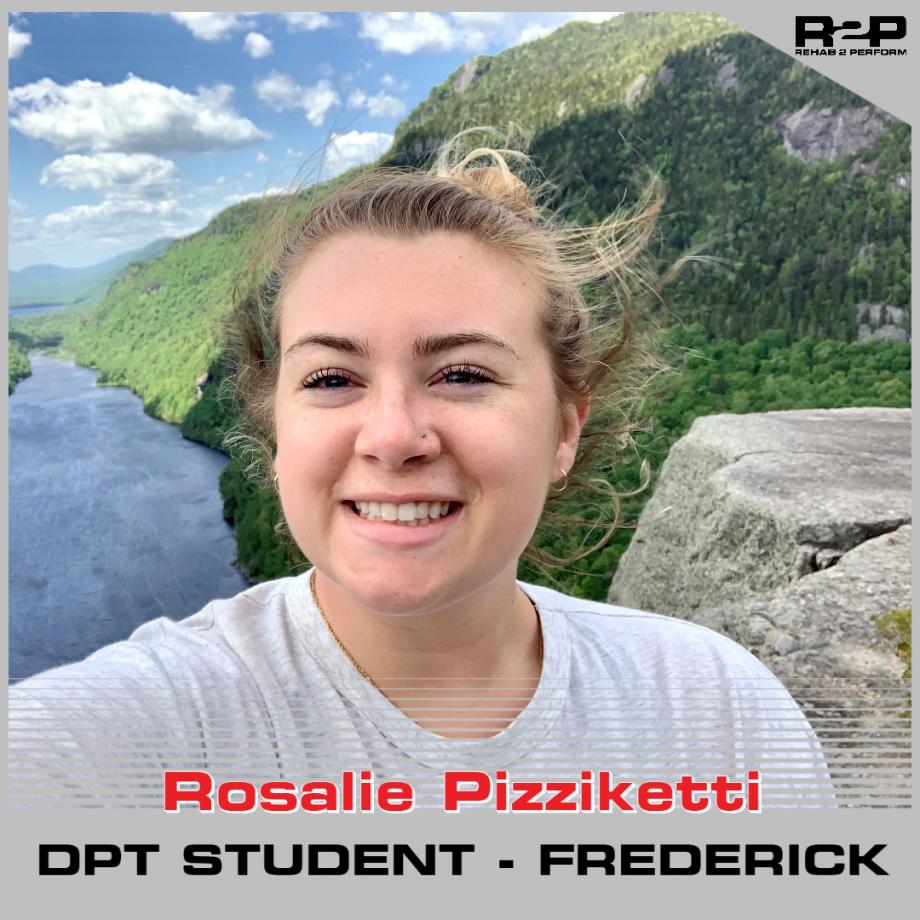 Why did you decide to enter the field of Physical Therapy?
Luckily, early on in my life I had an amazing experience with physical therapy for a knee injury.  The PT that I was working with is really the main reason I began thinking about this as a career. With that experience, along with my strong interest in science and movement, I figured that PT was a career where I would be able to put all of these pieces together. I also love that I am able to build great relationships with clients and help them acheive their goals. The field of physical therapy allows me to combine my passions and drive for knowledge as well as being someone who can genuinely help others.  
What is your background?
I am a third-year graduate student in the Doctor of Physical Therapy program at Nazareth College in Rochester, NY. I graduated in 2019 with my bachelor's degree in Health Sciences and Psychology. I played competitive volleyball for the majority of my life and through this sport, was introduced to working with a personal trainer. As I got older, I realized how much I loved being in the gym and learning about movement and the body. I began to work for this trainer and taught groups of young athletes. Teaching them how to move correctly and working to design workouts specific to their sport really set me on my path to PT school. I really appreciated learning how to work out properly at such a young age and now being able to convey that information to other people. I no longer play volleyball but going to the gym is still one of my favorite things to do. It gives me an opportunity to put some of the things I've learned in school into practice and play around with movement.
What is your specialty/niche when it comes to being a future physical therapist?
I really love the combination of rehab and performance to enhance the overall health and movements of any adult or athlete, not only in their sport but also in their everyday activities. I plan on working towards a CSCS certification to be able to provide an integrated rehab experience working from the foundation to the high-level performance of an athlete. Lately, I have been very interested in research and literature about motor learning, posture and foundational aspects of movement and how to build upon them to get the most out of everything we do.  
What are you most looking forward to joining the Rehab 2 Perform team?
I am most looking forward to working with high level athletes and adults who are strongly motivated to be the best they can be. I am so excited to experience Rehab 2 Perform's model of combining strength and conditioning with rehabilitation. I can't wait to work with the clients as well as the therapists and enhance my knowledge of the rehab field while also being able to focus on movement and strength to maximize performance.
What are your plans on trying to engage and connect with the community?
I think Rehab 2 Perform has an amazing presence on social media as well as in the DMV area. I am very much looking forward to sharing my experiences and knowledge with the community on social media. These platforms allow so much information to be shared online which is an incredibly effective way to expand the population who can benefit. Being able to help as many people as I can is important to me and access to that information is critical. I am also excited to get to know local sports teams and coaches and find ways to be able to create relationships with them.