Meet Rebecca, DPT Student, Shenandoah
Why did you decide to enter the field of Physical Therapy?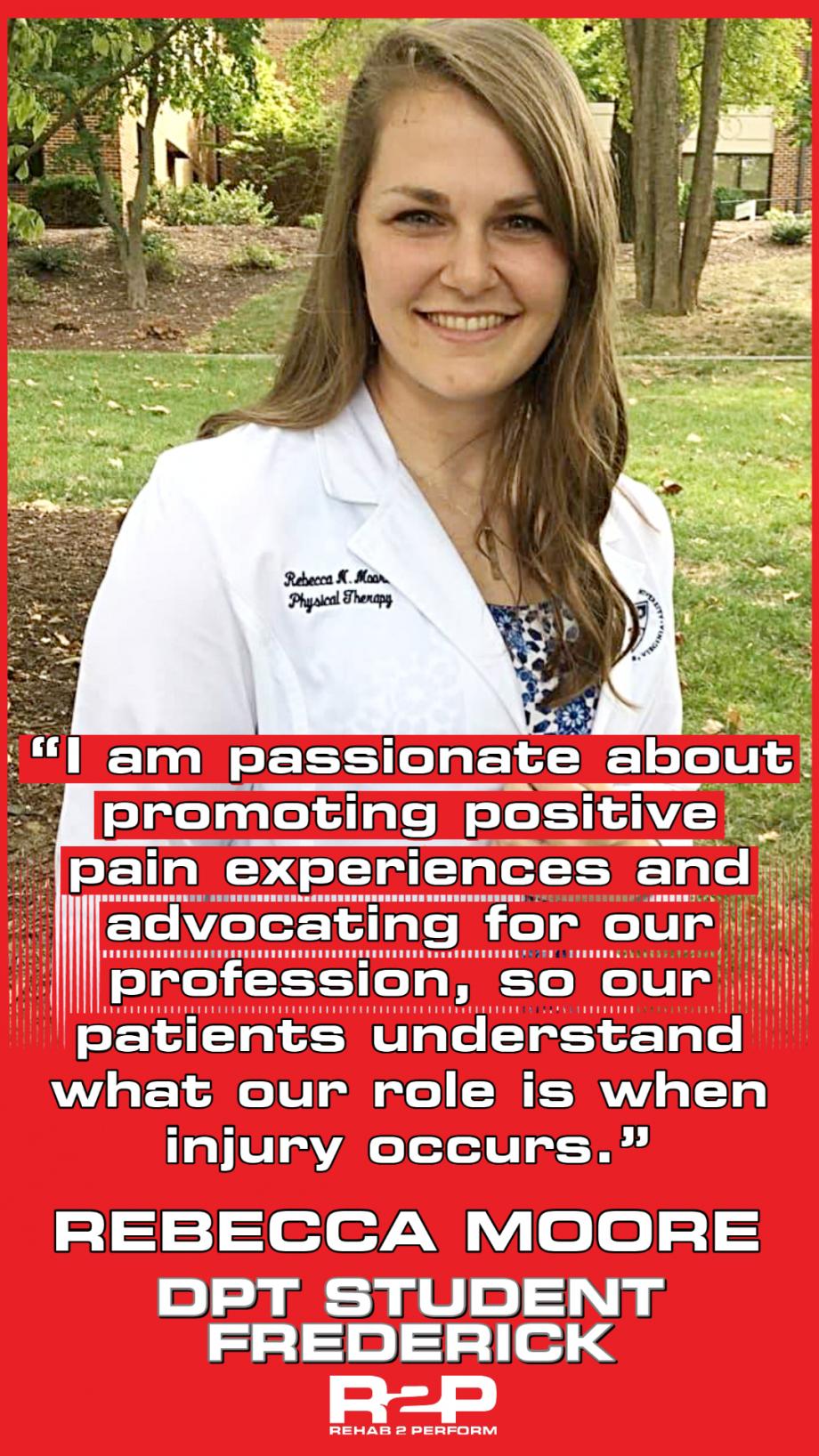 The idea of physical therapy crossed my path when I went through my own journey of recovery after a concussion I sustained during my freshman year in undergrad. I went through the process of trying to understand what I needed to get myself back on track and what rehabilitation would be best to produce optimal outcomes. After years of discouragement, I found myself working as a clinical assistant for a physical therapy clinic and fell in love with the profession. Ultimately, I entered the field of physical therapy because we are able to continually be patient advocates and provide patient education to encourage self-rehabilitation practices. It is also a field that surprises me every day with the amount of evidence based practice and advances we are making on a continual basis. Physical therapy is a field that allows me to advance my knowledge on a daily basis through peer communication and patient interactions.
What is your background?
I am a third-year Doctor of Physical Therapy student at Shenandoah University. I went to Stevenson University for undergraduate where I received a B.S. in Biochemistry. During the two years between graduation and starting physical therapy school, I worked as a clinical assistant in a physical therapy clinic and worked as a personal trainer. I come from a sports background with soccer being my primary sport up until freshman year of undergrad. Unfortunately, I sustained a career ending concussion due to poor rehabilitation management and not knowing my options for optimal recovery at that point in time. This allowed me to go through the process of rediscovery and rehabilitation on my own that got me to where I am today. I was fortunate enough to become a part of Stevenson University's track team as a thrower my junior year and after graduation I started my journey with powerlifting - which is currently my passion.
What is your specialty/niche when it comes to being a future physical therapist?
When concerning niche, I have had a variety of injury experiences throughout my athletic career where physical therapy was not even an option and strength training was a foreign subject. Being able to reflect on these experiences allows me to have the fire and drive to promote the profession and provide education about injury prevention so individuals can grab ahold of their personal experiences with injury. This has allowed me to expose a passion for strength training, concussion rehabilitation, and pelvic floor health. I strive to make a difference in any possible avenue I can whether its through education, listening, or story exchange. I am passionate about promoting positive pain experiences and advocating for our profession, so our patients understand what our role is when injury occurs.  
What are you most looking forward to joining the Rehab 2 Perform team?
I have been drawn to the company as a whole due to the innovative rehabilitation practice, promotion of continuing education, and striving to provide community outreach in any possible way. I am excited to learn from experienced clinicians from various backgrounds, so I can grow as an individual - professionally and personally.
What are your plans on trying to engage and connect with the community?
I will interact with the community in any possible way I can to learn more about the avenues that can be taken for community outreach. Through social media, I will share my journey during the experience, so people are able to see what the company is about and promote the profession as a whole. I also would like to take advantage of any other community outreach opportunities the internship provides.