Meet the Physical Therapy Intern: Zach Mitchell
1) Why did you decide to enter the field of physical therapy?
Like many physical therapists, I pursued a career in physical therapy when I was exposed to the field as a patient. Prior to tearing my ACL playing rugby in college, I had never experienced an injury that required physical therapy. The physical therapists I worked with inspired me and showed me the art of healing people with movement. I already had a passion for exercise and worked as a personal trainer, so pursing a degree in physical therapy allowed me to take my passion to the next level.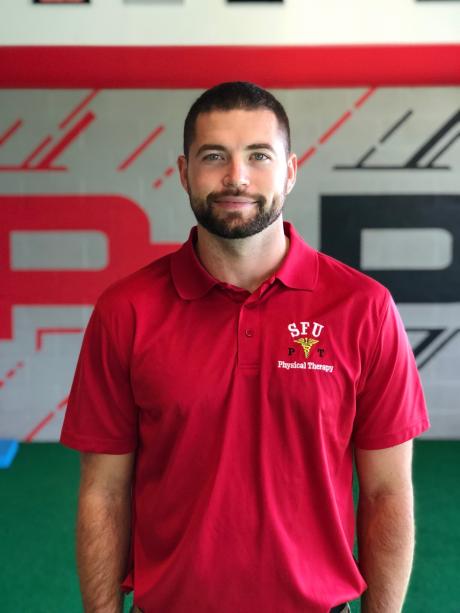 2) What is your background?
I am local to the area and attended Thomas Johnson High School. I have participated in a variety of sports: soccer, football, lacrosse, basketball, wrestling, rugby, skateboarding and snowboarding. Following high school, I became interested in the Specials Forces and joined the Ocean City Beach Patrol as a step in my training and qualification for the Navy Seals. I participated in triathlons, marathons, Beach Patrol training and SealFit as part of my training. Unfortunately, while testing for the military, I found out that I was color blind and was immediately disqualified. Following graduation from University of Maryland, I became a personal trainer at Sport & Health (Onelife Fitness now) and joined the explosive performance team. During this time, I was able to work with and learn from incredible coworkers, clients and athletes, and acquired additional movement certifications. I am currently in my 3rd year at Saint Francis University. While attending Saint Francis, I continued to work as a personal trainer and strength coach at Legend's Warehouse. I also participated in Krav Maga, kickboxing, CrossFit and a few Olympic lifting competitions. I am a firm believer that movement, or lack of movement, can have a profound impact on a person's life; therefore, I focus on practicing what I preach.
3) What is your specialty/niche when it comes to being a (future) physical therapist?
I knew that I wanted to work in an outpatient/sports setting prior to going to PT school. I have experienced other settings, but I really enjoy helping motivated individuals get back to their sport or hobbies. In addition, I am passionate about working with adolescents and young adults. I wasn't a great athlete, and if I knew then what I know now, I wondered how much of a better athlete I would have been. I cannot change the past, but I can influence the next generation of athletes.
4) What are you most looking forward to joining the Rehab 2 Perform team?
I have followed R2P on social media, and I have seen and heard of their great reputation. I wanted to be around an organization that holds similar values as I do. Their core values focus on putting the patient first, empowering and educating the patients. The culture, atmosphere and environment at R2P is ideal for me. Most importantly, I look forward to learning from everyone. There is a wealth of knowledge and experience to learn from at this clinic.
5) What are your plans on trying to engage and connect with the Frederick community?
I appreciate R2P's involvement with Frederick's community. It feels good to be a part of an organization that wants to make a difference in the community. Recently, everyone at the Frederick R2P location took a few hours out of their day to serve food, clean tables, clear dishes and trays, and communicate with people in the community at the Frederick Rescue Mission. How many organizations closed down their business to provide these services? Probably very few. That is how this organization contributes to their community- they add value! I hope I can play my role by contributing to add value to my community. I can share information that I am passionate about and continue to get involved in more events like the Frederick Rescue Mission.