Meet the Physical Therapy Intern: Katie Brown!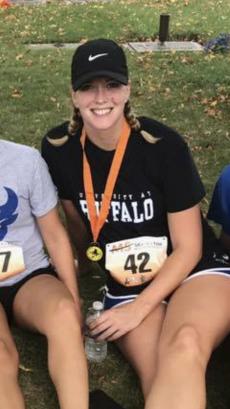 Q: Why did you decide to enter the field of Physical Therapy?
I originally started my college career at a community college in central New York with the intent of becoming a graphic designer. I played volleyball for Onondaga Community College with a couple girls who majored in more science based career options.  They would talk about how difficult anatomy and physiology was and I heard rumors around campus that it was impossible.  Being the competitive person I am, I enrolled in the class for the challenge and fell in love with the artistry that is the human body and the way it moves. Fast forward a few years and I found myself at the University at Buffalo with a bachelor's degree in Exercise Science.  I chose to continue my education with the Doctorate of Physical Therapy because as an athlete, I saw how crucial they were to an athlete's ability to return to sport, helping people get back to their daily lives, and more generally, as health promoters in their community.
Q: What is your background?
I am currently a second year PT student at University at Buffalo just two hours from where I grew up in a small town in central New York – Auburn, NY.  Growing up, I was always involved in some sport throughout the year.  I started with cheerleading at the age of seven.  In middle school, I got into volleyball, skiing, and track and field and continued through high school.  I started rowing at the D1 level at UB my first year as a transfer student.  Now that my collegiate athletics days are done, I enjoy hiking, running, and going to the gym.  In addition to my schooling, I am currently a personal trainer and work as a student PT in a wellness program for patients with MS.
Q: What is your specialty/niche when it comes to being a future physical therapist?
Right now, as I'm still learning and experiencing different clinicals, I am keeping an open mind to all specialties of PT.  I would like to get as much experience in a broad spectrum of expertise while I'm in school so that I can have a more global view of PT when I graduate. That being said, I do have a tendency to lean to pediatrics.  I love working with children and I find the developmental stages, both musculoskeletal and neurological, to be very interesting.
Q: What are you most looking forward to joining the Rehab 2 Perform team?
I'm looking forward to gaining as much knowledge as possible from the staff at Rehab 2 Perform.  I chose this clinic because it's something very different from what I've ever been a part of or ever seen and I'm very excited to learn how performance rehab can improve people's everyday living.
Q: What are your plans on trying to engage and connect with the Germantown community?
Being new to the Germantown area, I'm excited to learn about the community and meet new people. In my first week at Rehab 2 Perform, I've seen how connected the community is and I'm very excited to become a part of that. I hope to be able to make a positive impact on the patients that come into Rehab 2 Perform and contribute as much as I can in my short 8 weeks.