meet Morgan, DPT Student, UMB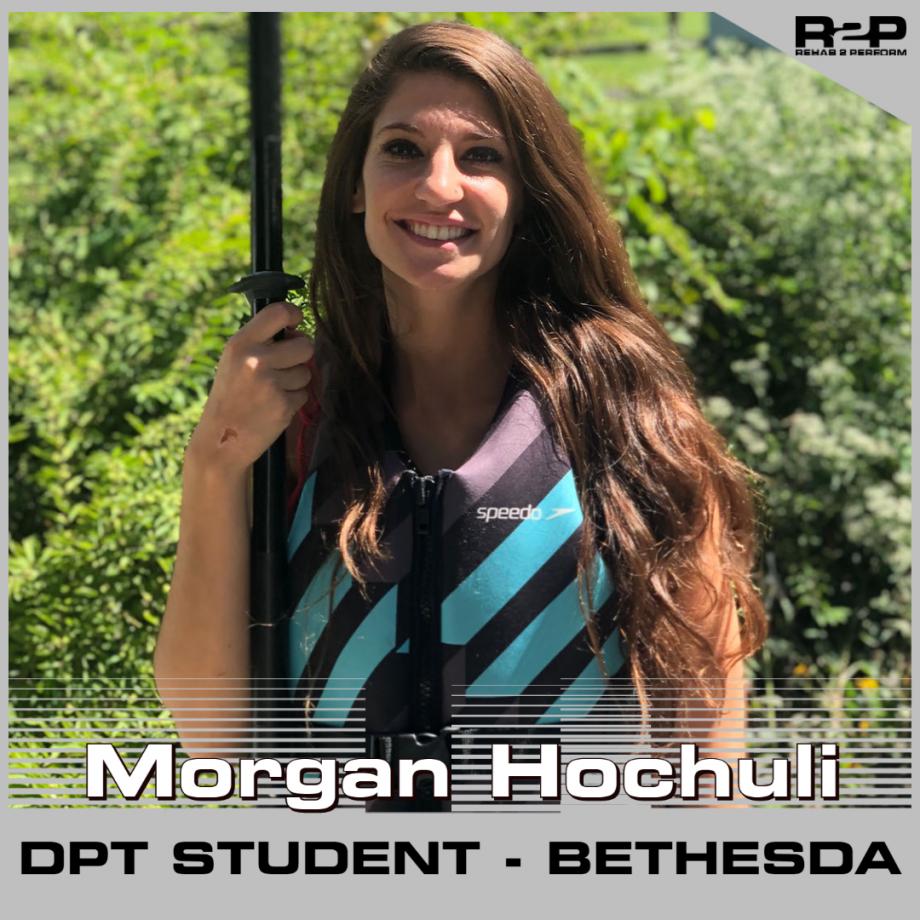 Why did you decide to enter the field of Physical Therapy?
Both my parents have professions that revolve around medicine, so I have been immersed in the medical field ever since I could remember. Our dinner conversations were far from the average household, where our ears were filled with stories that surrounded emergency rooms instead of what the traffic was like on the way home from work. I knew I wanted to study medicine, but choosing what direction to go in was a challenge for me. My background in soccer that involved various ankle sprains and hip flexor strains pushed me in the physical therapy direction. Going to therapy and seeing the impact that it makes not only on a physical level but a psychological level made me realize how significant physical therapy can be. I knew I wanted to be in a field that allowed me to interact with people on a one-to-one basis and help them achieve their personal and rehab goals throughout their whole recovery.
What is your background?
I am currently in my last year of graduate school, receiving my doctorate of physical therapy degree at the University of Maryland Baltimore School of Medicine. I grew up in Ellicott City, Maryland and went to the University of Maryland College Park to receive my B.S. in kinesiology. Ever since I was able to walk, soccer consumed my life 24/7, 365 days of the year where I would travel up and down the east coast for tournaments and games. Around middle school, I picked up lacrosse so I could continue to play sports all year around in high school, but nothing could replace my love for soccer. When I was in college, I participated in co-ed intramural sports, weight lifted, and hiked at various spots around Maryland and West Virginia in order to stay active. I used sports and working out as an outlet to escape the stress and chaos in college and graduate school.
What is your specialty/niche when it comes to being a future physical therapist?
When it comes to being a future physical therapist, I think my specialty/niche would be working with adolescent soccer players to promote preventative and rehabilitation strategies that would set them up for success on and off the field. My extensive history with playing soccer would help guide my treatment plans to mimic game-like scenarios so patients would be prepared to step back onto the field in a timely manner. Knowing how prevalent ACL tears are in adolescent soccer players, my focus would be on injury prevention and creating strength and conditioning programs that are unique to this population. 
What are you most looking forward to joining the Rehab 2 Perform team?
What I am looking forward to most about joining the R2P team is the mentoring and education that I will be receiving during my internship. I follow all of the social media accounts that R2P has to offer, and I cannot wait to get involved in the classes and continuing education courses that are constantly being advertised. Practicing physical therapy with the most up to date research is extremely important in order to give patients the best quality of care, and I know that my internship here will allow me to uncover and utilize the best evidence that is available.  
What are your plans on trying to engage and connect with the community?
Volunteering to help the community I am surrounded by is something that I have always been passionate about. I believe it is imperative to get involved with the community I am working in so I can connect with my patients more. Whether that is going to local high schools and advocating for the physical therapy profession, or volunteering to help set up local races or community events, I want to be an active participant in lending a helping hand. Even though my main role at R2P will be a student physical therapist, I do not want that to stop me from expanding my role as a community member. If there is ever an event that R2P is hosting or volunteering at, I hope to add another member to that team.