Meet Kira, DPT Student, Univ. Vermont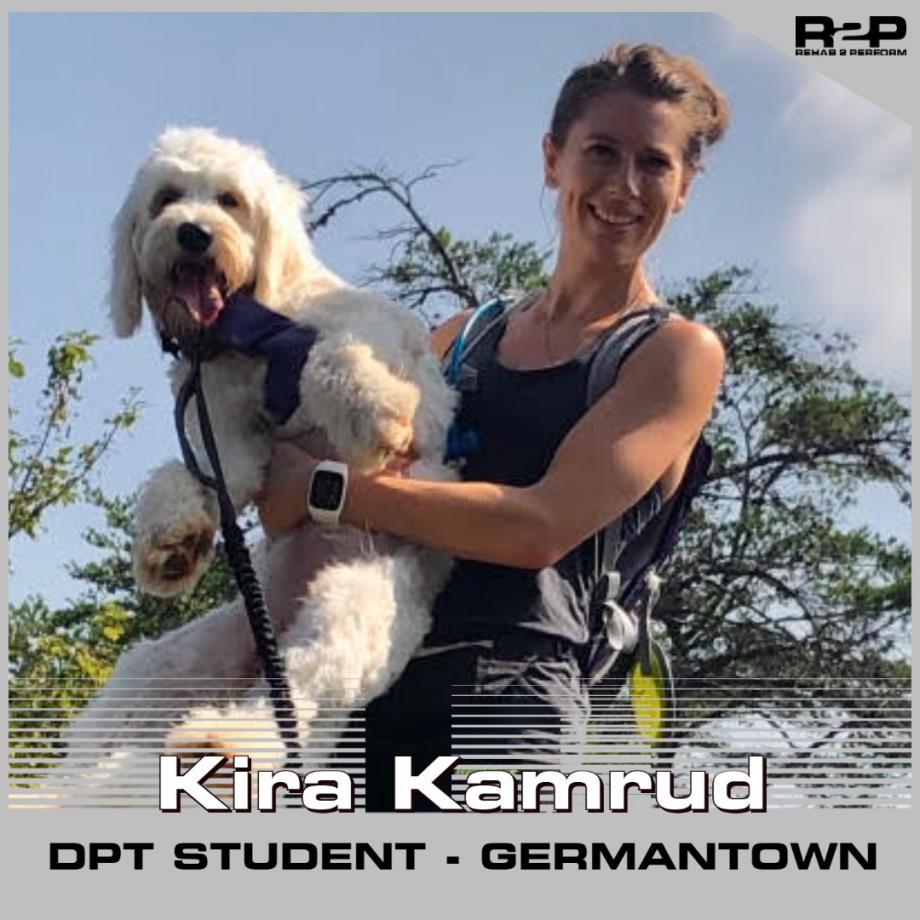 Why did you decide to enter the field of Physical Therapy?
I decided to enter the field of Physical Therapy because I wanted to work in the healthcare field and loved the wholesome nature that is the physical therapy profession. I enjoy how PT's help people heal from injuries via the intervention, correction and education of proper biomechanics.  I inherently believe exercise is medicine and am passionate about sharing this with other people! 
What is your background?
I am a third year Doctor of Physical Therapy student at the University of Vermont. I grew up in Columbia Falls, Montana playing sports such as soccer, tennis, and skiing. I began my undergraduate career at Corban University in Salem, Oregon where I played collegiate soccer in their NAIA program. After two years however, I decided I wanted to focus more on academia and switched to the University of Montana where I pursued an Exercise Science degree. Upon arriving in the beautiful city of Missoula, Montana I found a passion for running and began running half marathons. After graduation in 2017, I decided to migrate cross country to begin my journey in the field of Physical Therapy in Burlington, Vermont. While in Burlington, I found my second passion, cycling. I received my certificate as a certified cycling instructor in January of 2020. I will graduate in December 2020 with my DPT degree and plan to begin practicing in Charlotte, NC. In my free time I also love to exercise with my dog, mountain bike, hike and read.
What is your specialty/niche when it comes to being a future physical therapist?
When I began running in 2016 I quickly understand the "runners high". However, with beginning to run, I also was faced with injuries that most runners deal with at some point in their racing career. Therefore, I would love for my niche in physical therapy to be training and rehabilitating runners. I want to educate myself more about the sport of running in terms of energy conservation, biomechanics, and psychology to help my future patients in their sport endeavors. Along with this specialty, I also would like to understand the knee better as this is one of the major joints that becomes injured in runners due to the repetitive nature of the sport. I plan to teach my patients how to prevent knee injuries, and how to run again after them. I would love to host weekly runs and injury prevention courses as a way to bring together the running community while promoting the profession of Physical Therapy.
What are you most looking forward to joining the Rehab 2 Perform team?
My aspiration to join the Rehab 2 Perform team encompasses the application of exercise physiology principles to the physical therapy process. I know principles such as periodization, energy systems, and exercise prescription can be overlooked in the Physical Therapy profession as a whole, and I believe they are pertinent and paramount to not only athletes but all populations and their injuries'. I am excited to learn and work around professionals who share a similar passion for sports fitness rehab and the optimization of athletic performance.
What are your plans on trying to engage and connect with the community? 
I want to connect with the community through cycling instruction, coaching soccer and becoming more actively involved with a running group. I have coached elementary and middle school soccer and love sharing my passion of the sport with young individuals as this is such an important age. I also would like to begin teaching at a spin studio as this is another great way to reach individuals of all ages in an athletic setting.