Meet the Intern: Sarah Onderko
Q: Why did you decide to enter the Health and Wellness field?
A: I decided to enter the Health and Wellness field because I have always had an interest in how the human body works and moves. I have always been fascinated by how the body responds to exercise and I think that physical therapy would be a very rewarding career. I think that everyone can benefit from being physically active and I want to share my knowledge with others to help them live healthier, active lifestyles.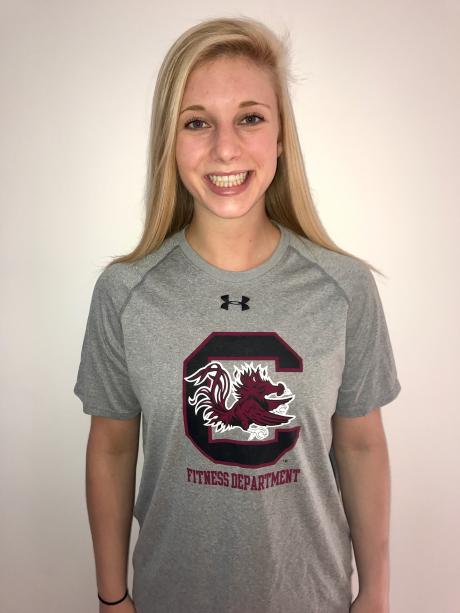 Q: What is your background?
A: I graduated from Poolesville High School in 2014. In high school I was a member of the field hockey team and a sprinter on the track team. I am currently a student in the Exercise Science program at the University of South Carolina. At school I am no longer a part of any sports teams, so at first it was a transition for me to begin working out and staying shape on my own, using a gym instead of a sports field or a track. I am now an ACSM certified personal trainer and I have developed an interest in weight training.
Q: What is your specialty or niche in the Health and Wellness field?
A: My main interest in the Health and Wellness field is in exercise and physical activity. As a certified personal trainer, I know that every individual has specific goals and responds to exercise differently. Working as an intern at R2P has taught me a lot about functional exercise and how to design exercise programs around injuries or physical limitations. I am excited to implement all that I have learned when I return to school to work as a trainer.
Q: What are you most looking forward to joining the R2P team?
A: I have worked as an intern at R2P in the past and have come here for physical therapy. All of the time that I spend at R2P is very valuable to me and I have learned so much. I am looking forward to continuing to learn from each of the staff members. All of the physical therapists at R2P are wonderful teachers and always make sure that they explain topics in a way that is easy to understand and apply. I am pursuing a career in performance physical therapy as well, and spending time at R2P has given me a great idea of what that career entails.
Q: What are your plans on trying to engage and connect with the community?
A: I hope to be able to teach others all that I have learned about the human body, nutrition, and exercise as a student and as an intern. Living an active, balanced lifestyle is so important and I want to help others achieve their health and fitness goals. Having dealt with injuries and other setbacks in the past, I strive to help people overcome any hurdles that stand in their way of living a healthy, active lifestyle.