Rehab 2 Perform Makes Major Leadership Impact In MD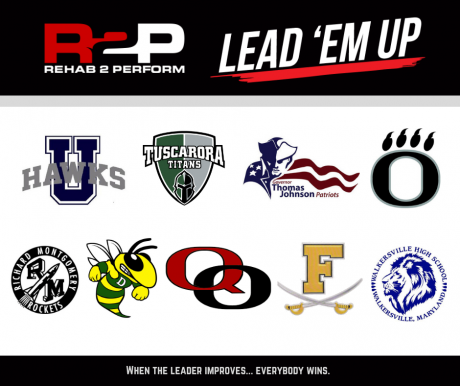 A little over a year ago we launched our sponsorship division allowing local business to provide the Lead 'Em Up program to their local schools at no charge to the school.  We've seen many business step forward; companies like Chick Fil-A, M&M Builders and Contractors, Safety National & more
Most recently, Rehab2Perform, a unique Maryland-based Physical Therapy company with locations in Frederick & Germantown (and more coming soon), owned by Dr. Josh Funk, reached out wanting to impact Maryland high schools and provide the Lead 'Em Up program to 9-high schools in Montgomery & Frederick County.
The schools included are: (Montgomery County) Quince Orchard, Richard Montgomery & Damascus and (Frederick County) Urbana, Oakdale, Frederick, Tuscarora, Walkersville and Thomas Johnson.
Each school will now have access to the full Lead 'Em Up library of leadership & character drills and exercises for their coaches to begin using with their teams.
Josh Funk, Owner of Rehab 2 Perform – "For the past 4 years, Rehab 2 Perform has prioritized the physical well being of members in the community through its physical therapy and sports rehabilitation services. A central focus of our efforts have surrounded around community support and involvement, especially with our local schools.
Through my friendship with Adam Bradley and my exposure to Lead Em' Up, I wanted to find an innovative way to support the local high schools with this unique and dynamic leadership platform. Rehab 2 Perform is thrilled to announce we will be sponsoring 9 schools with the Lead Em' Up program in an effort to provide the education, framework and guidance for the next generation of leaders"
Lead 'Em Up is a leadership & character program started in 2015 in Montgomery County, Maryland and is currently being used by hundreds of youth, high school and college teams all over the country.  We provide coaches a full library of drills and exercises for them to use with their players to help them develop into the leaders needed to win.  In addition to our online program we also provide dynamic live training programs, our Lead 'Em Up Training Camp, where we'll come out and work directly with your team.  If you have any questions, would like to learn or are interested in having Lead 'Em Up come work with your team, email: info@leademup.com
When the leader improves… everybody wins  Have fun and #LeadEmUp www.leademup.com